UTSA Campus Recreation's Strength & Conditioning programming helps bring clients closer to their health and wellbeing goals.  We offer free Fitness Assessments, Equipment Orientations, and Lifting Clinics in addition to an option of Personal Training from nationally certified personal trainers at a much more affordable rate when compared to gyms around San Antonio. Whether your goals are to lose weight, build strength, up your cardio, or simply improve your health, our team can offer customized programs to push you forward.
There are a variety of ways that you can engage with our Personal Trainers for assistance along your fitness journey. Click the links below for more information.










---
Equipment Orientation
This is an opportunity for members to become familiarized with the strength and conditioning equipment available at the UTSA Campus Recreation. The orientations are conducted by one of the UTSA Campus Recreation's nationally certified personal trainers and are focused in one of three areas: cardio equipment, machine lifting equipment or free weight lifting equipment.
Tutorials last approximately 30 minutes and can cover any machine(s) that you would like to utilize! Free for all UTSA students and Campus Recreation Members.
Register for an Equipment Orientation
---
Fitness Assessments
 All UTSA Rec Center members are offered two free Fitness Assessments per semester. 
A Fitness Assessment will:
Help you understand your current fitness level
Allow you to compare your fitness level to the norms and standards of people that are the same age and gender
Help you (or a trainer) develop an exercise program to fit your specific needs based on your assessment results
Serve as a motivator to adhere to a training regimen and re-assess at a later date to view progress                       
How to Register for a Fitness Assessment
Fitness assessment requests will be processed between 8 am and 5 pm, Monday through Friday.
Register for a Fitness Assessment
Note: If you submit a request over the weekend, it will be processed next Monday. You will receive a reply within approximately 48 hours and will be contacted by a trainer within one week.
---
Personal Training
How to Register for Personal Training
​All Personal Training packages come with a Fitness Assessment prior to the sessions beginning. If you want to Share-A-Trainer, then all members must register at the same time and pay at the same time. 

Only UTSA Campus Rec members are allowed to register for personal training sessions.
Register for Personal Training
Types of Personal Training Packages
One-on-One Training Packages

| 60- Minute Sessions | Package Price | Cost Per Session |
| --- | --- | --- |
| 4 | $140 | $35 |
| 8 | $235 | $29.38 |
| 12 | $290 | $24.17 |
| 16 | $365 | $22.81 |
| 20 | $435 | $21.75 |
Share-A-Trainer
Training for you and your friend, and it must be the same two (2) people getting trained for the length of the package of sessions purchased. Each session is 60 minutes in length.
Share-A-Trainer Packages

| Sessions | Package Price | Cost Per Person Per Session |
| --- | --- | --- |
| 4 | $170 | $21.25 each |
| 8 | $255 | $15.57 each |
| 12 | $310 | $12.92 each |
| 16 | $385 | $12.22 each |
| 20 | $460 | $11.50 each |
---
Women on Weights
This is a program running for six weeks early in the fall & spring semesters. There are 12 total sessions, two per week. There are two available sections. This is a group setting using the MAC Fitness area of the Rec Center. The purpose of the program is to familiarize the participants with weight lifting. The class will utilize a combination of dumbbells, kettlebells, machine weights, TRX straps, medicine balls, and body weight. 
Spring 2022 - Monday/Wednesday - 8PM - 9PM or Tuesday/Thursday - 8AM - 9AM
The class will run from October 3 to November 11
Registration deadline: September 29
Cost: $99. Get $10 off if you sign up by September 16! 

Women on Weights registration will be live in late July.
---
Lifting Programs
Let us do the work for you in developing a workout plan tailored to your strength level! You provide us your maxes and we will deliver you a workout plan that challenges you to reach your goals. All lifting programs are personally assembled by our Strength & Conditioning Coordinator and are sure to give you one heck of a workout!
Take a look at our current Lifting Programs below:
3 Week Hypertrophy Lifting Program

3 Week Strength / Power Lifting Program

12 Week Strength / Power Lifting Program

12 Week Toning Lifting Program

18 Week Progressive Lifting Program

Monthly Lifting Program
For more information or to register for a Lifting Program, click HERE.
---
Weight Room Clinics
Our Weight Room Clinics are crash course sessions where you can learn the fundamentals of our special topics for the day and primarily focus on weight lifting. Clinics are free to attend and held in the main weight room. Best of all, you get a FREE GEAR for attending! All clinics are from 2 PM to 4 PM.
1) Exercise Prep - Warm-Up/Roll/Activation & Cool Down – 09/06/22
2) Functional - TRX / Kettlebell – 09/20/22
3) Strength - Squat/Front Squat/Deadlift – 10/04/22
4) Olympic Lifting – 10/18/22
Fall registration link coming soon!
---
Become A Trainer / Personal Trainer Certification
 Becoming a Personal Trainer might not be as daunting as you think! Check out our page on Personal Trainer and Group Exercise Instructor Certification for more information on how to become a Trainer and how to apply for a job at Campus Rec!
---
Meet a Trainer (MAT)
If you would prefer to meet a trainer in person we have our Meet a Trainer (MAT) sessions happening all semester. Catch us out at the South Entrance, and we can chat about your goals, do a body fat percentage test, test your vertical jump, and you get some cool swag in the process! No sign-up is necessary, just come on in. 
Meet A Trainer dates for the Fall 2022 semester coming soon! 
---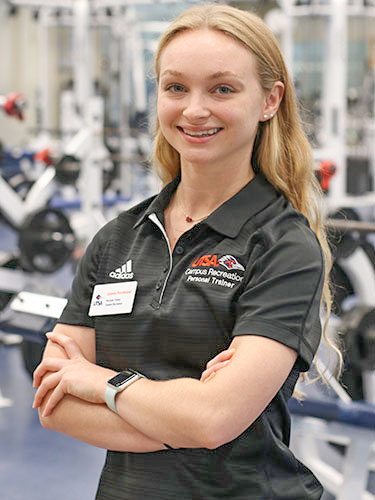 Joann Forehand
Degree: B.S. Kinesiology - Health Science
Certification(s): American Council on Exercise - Certified Personal Trainer, American Red Cross CPR/AED/First Aid
Specialties: General Fitness and Wellness, Strength & Conditioning, Resistance Training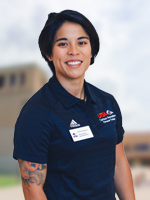 Haylle Lawrence
Degree: B.A. Psychology with a minor in Biology
Certification(s): NASM Certified Personal Trainer, American Red Cross CPR/AED/First Aid, Crossfit Level 1 Certification
Specialties: Functional Training, Olympic Weightlifting, Kettlebells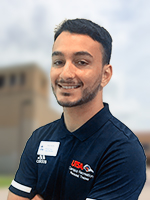 Andy Acuna
Major: Kinesiology
Certification(s): NASM Certified Personal Trainer, American Red Cross CPR/AED/First Aid
Specialties: Maximal Strength Training, Cardio/Endurance, Resistance Training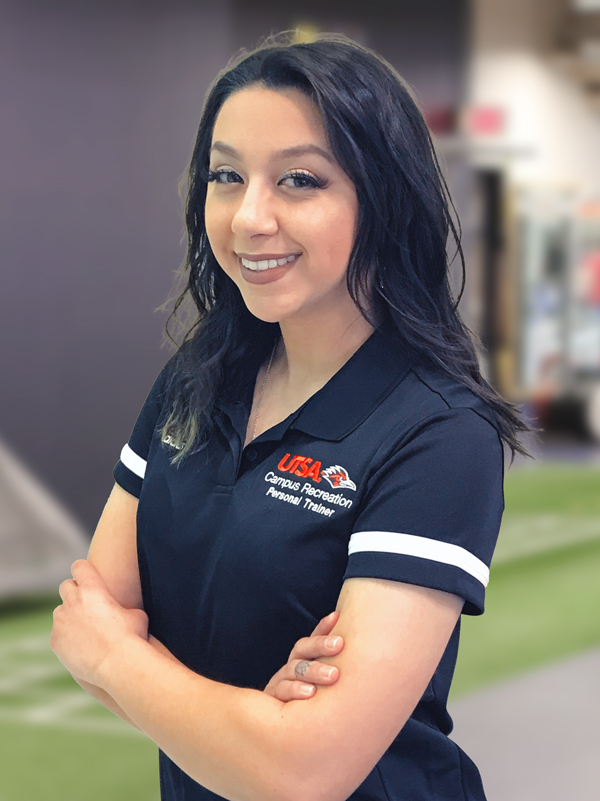 Zoelle Valerio
Major: Bachelor of Science - Nutrition and Dietetics
Certification(s): NASM Certified Personal Trainer, American Red Cross CPR/AED/First Aid
Specialties: Resistance Training, Power and Speed Training, Basic Holistic Health and Wellness Practices